Why are the people of a very large area of this world busy with saving lives more than celebrating? From Ukraine to Russia, from Israel to Palestine, or from Azerbaijan to Armenia, people are passing years under the shadow of war.
The new year was celebrated in Palestine amid conflict with Israel. The picture is just three days before the end of the year. The Israeli army released tear gas shells in Al Khalil, Palestine. Then the children from a school here were leaving for their homes after studying. Seeing the smoke in front of them and the stampede among the people, these children got scared and were seen running on the road crying.
When the 42-year-old soldier reached Kyiv on December 31 in Ukraine, he became emotional after seeing his daughter at the railway station. He happily lifted the daughter in his arms.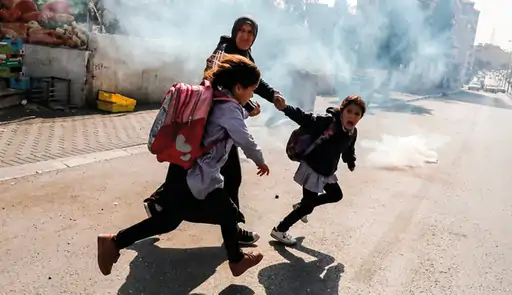 Streetside walls in Kyiv are decorated. Many children have lost their lives in the war. Millions of children have been affected, so a message has been written on the walls – children should not see war. (Photo- Nolan Peterson/Coffee or Die Magazine)
This picture is of the Main Clinical Hospital of Azerbaijan. There is a monument to former President Heydar Aliyev. Defense Ministry officials welcomed the new year by paying homage here. Azerbaijanis also celebrate the New Year as Solidarity Day.